Franck's Wild Ride
Uplifting, funny, and moving...
Two friends, one impulsive and one reserved, are drawn into a foreclosure scam on an old New England home with ties to slavery and the Underground Railway, and discover love, community, and deep family secrets. 210pp. $10
Music columns for Scottish Life magazine
Ed has written the music column since 1996 for Scottish Life, a quarterly color magazine. For subscription or back issue orders, feel free to check out this link to the magazine.
Spring 2017 – Music and musicians of Caithness;Winter 2016-7 – the Atholl Collection in Perth; Fall 2016 – Ross Ainslie & Gordon Duncan; Summer 2016 – Scottish Social Dance music; Spring 2016 – Ewan MacColl; Winter 2015-6 – Hebridean Celtic Festival; Fall 2015 – Highland Music Trust; Summer 2015 – Music of Moidart; Spring 2015 – Borders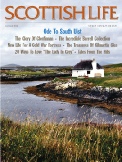 Alita: an Unidentified Flying Love Story
Available soon
She's a pilot who's traveled 10,000 years back in time to study us; he's her specimen, a man of 2018. They have a short time to learn a great deal about each other.